1. Climb Mount Kilimanjaro Possibilities In Terms Of Climbers' Type:
Many solo travellers come to Kilimanjaro with one goal in mind - get triumph over the mountain. They don't mind how they do it. So, what are the options?
1.1 Should It Be Better To Join A Group To Climb Kilimanjaro?
The most effortless choice, if you are alone from everyone else, is to join a group tour. A Kilimanjaro group climb, as a rule, has a blend of explorers all things considered, from couples to small groups and other solo voyagers. You can organize a group tour from several operators from home, or you can do it in Tanzania itself in the trekking towns close Kilimanjaro, for example, Arusha or Moshi. There are various advantages of interest in joining a group. You get the opportunity to meet new individuals, share the experience with different explorers and costs are less expensive.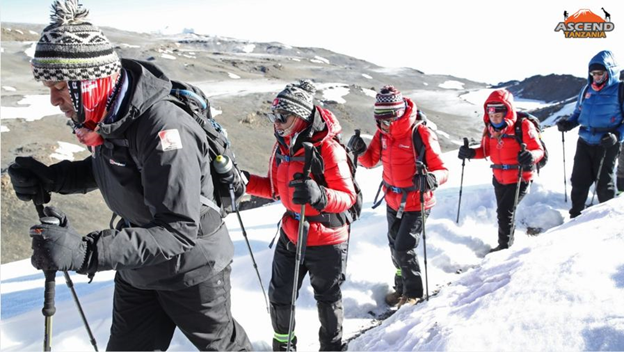 1.2. Is It Possible to Customize A Kilimanjaro Group Climb With Affordable Options?
Yes, you can absolutely customize groups by contacting with your operators for Mount Kilimanjaro Climbing . And by joining a group your expenses are reduced as you have to pay everything in the group not individually so the cost gets shared among members of the group.
1.3. Drawbacks of Kilimanjaro Group Tours
One of the disadvantages of joining a Kilimanjaro Group Tours is that you may have to adjust your walking speed to that of other members on your group. Another disadvantage is that pre-scheduled group tours run on a fixed schedule which may not always be convenient for you.
1.4. Should one Organize Private Tour to Climb Kilimanjaro?
Your Kilimanjaro dream climb is entirely your own to design. You would work with your operator to customize exactly the triumphant Tanzanian mountainous quest experience you want. You go with the people you choose. You leave on whatever day you wish. You decide on your preferred route option, pace and the number of days you will take.
1.5. Pros of Private Tours to Climb Kilimanjaro
The main advantage is that you can set your own schedule and it means you have full flexibility to go where you like. All of the items included in the tour will be set according to your individual requirements.
1.6. Cons of Private Tours to Climb Kilimanjaro
The primary disadvantage is that the private tour works out to be more expensive for solo climbers or couples. On a private tour, it is unlikely that you will get the same group bonding experience than you would on a group tour.
2. How Kilimanjaro Group Tours Are More Preferred By The US Travellers?
The Kilimanjaro Group Tours are more preferred by US travelers as it reduces the cost per climber significantly. Joining a group tour makes it easier to meet people and form close bonds and friendships with other climbers.
Indeed some climbers describe their bonds and friendship with other climbers rewarding aspects of Kilimanjaro experience. Other people in the group offer much needed mutual support and inspiration during the last summit push.
3. What Are The Ways To Join A Group With Ascend Tanzania And How It Will Be Helpful For Travelers?
Group climbs are extraordinary in case you are voyaging solo, are a couple, or just wish to experience the Climbing Kilimanjaro with various explorers from around the world. These group climbs are booked in the midst of months that have the best climate and consolidate acclimatization days for extended accomplishment rates.
Our groups are confined to only 10 climbers. We don't have faith in making immense trekking parties as it diminishes the experience. Keeping the group small makes a private setting on the mountain, yet more essentially ensures genuine thought for each and every climber. Group trips are guaranteed to leave, paying little mind to the number of climbers. Your trek will never be dropped, and you will never be approached to pay continuously, regardless of whether you are the main individual set up for the climb
4. Best Guide For Kilimanjaro Safety Standards:
The importance of having skilled, fantastic guides can't be overstated concerning Mount Kilimanjaro Climbing.
Ascend Tanzania uses local guides, all of whom have gotten extensive training in medical aid, Kilimanjaro Rescue, and know about the immense widely varied vegetation and history of East Africa. And all our Kilimanjaro tour operators are enrolled with Kilimanjaro National Park (KINAPA) and have long periods of experience to their credits. Our senior guides have had at any rate 5 years' experience as mountain guides on Mt Kilimanjaro and have summited the mountain more than 100 times each.
Undoubtedly the majestic Mount Kilimanjaro is an icon. Africa's most astounding peak at 19,341 feet draws genuine, seven-summit mountain climbers. So if you too are interested in taking Kilimanjaro Group Tours or Climbing Kilimanjaro Solo then Contact Ascend Tanzania. We will be there to assist in every step of your journey to hike the world's highest free-standing mountain starting from booking your trip to your departure to your home country after a successful summit. For more info, you can visit us at @ https://www.ascendtanzania.com/